When it comes to working at heights, the paramount importance of fall protection cannot be overstated. Among the array of safety gear available, full-body harnesses stand out as a lifeline against the unforgiving force of gravity. These harnesses are meticulously designed to distribute the impact forces of a fall across the body, preventing catastrophic injuries. The OSHA states that if a worker can fall 6 feet (1.8m) or more while working they must have a fall protection system in place.
The importance of wearing the right body harnesses cannot be emphasized enough. Wearing a fitted full-body harness and lanyard correctly is a crucial measure to prevent falls from height. The harness provides a secure connection between the worker and a fall protection system anchored to the structure. A comprehensive guide to full-body harnesses sheds light on their components and their suitability across various industries.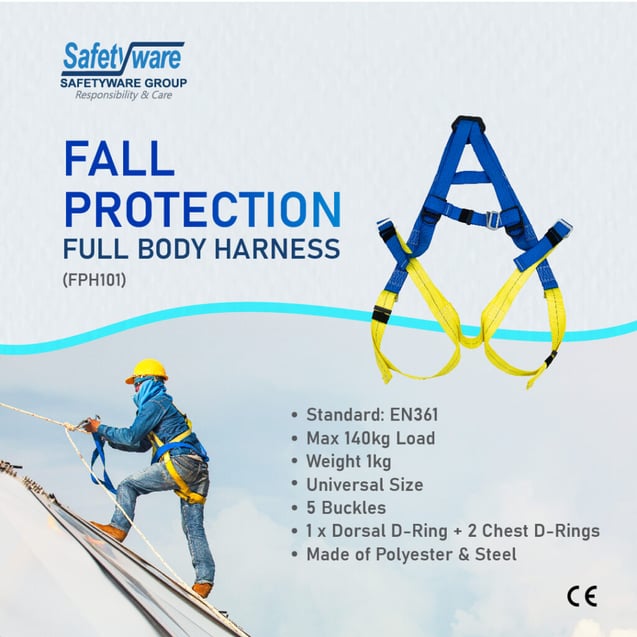 Three Major Components of a Personal Fall Arrest System (PFAS):
A PFAS includes three vital components:
Full body harness
Anchorage point,
Connecting device (lanyard or retractable lifeline

with snap hooks

).

These elements collaborate to establish a thorough fall protection system. The full-body harness plays a crucial role by evenly distributing impact forces during a fall. This design enhances safety and enables efficient and secure task execution at elevated heights.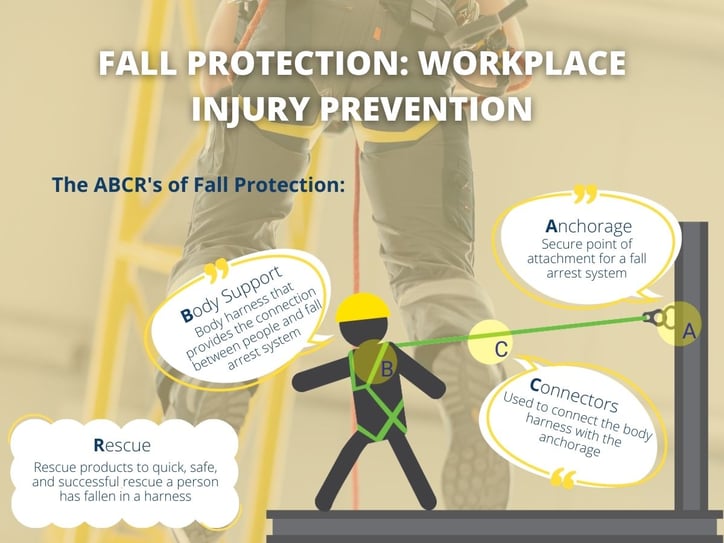 Real-life tragedies underscore the dire consequences of neglecting fall protection. Instances where workers lacked proper body harnesses have resulted in severe injuries or fatalities. Prior to commencing work at heights, it's essential to thoroughly inspect the harness for its condition. Verify that the straps fit comfortably around your body, ensuring there's no risk of restricting blood circulation.
Why Choose

Safetyware

for Your Full Body Harness & Fall Protection Needs

?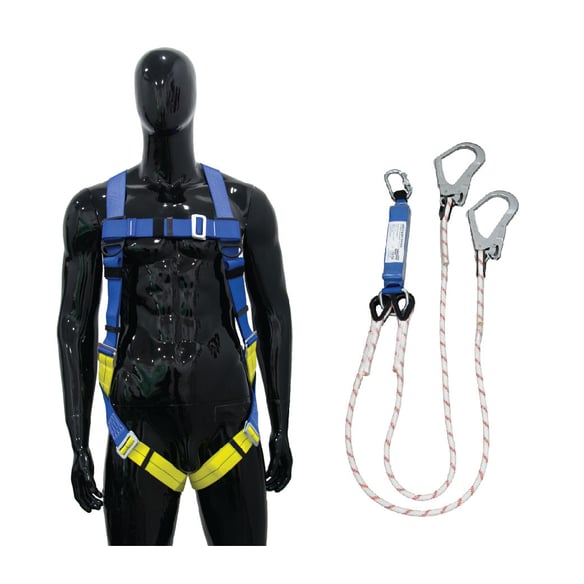 When considering your full-body harness and fall protection requirements, Safetyware stands out as a dependable choice for several compelling reasons:
Comprehensive Set Offering: Safetyware's FPH101YLYESET Full Body Harness Complete Set includes a full body harness with an energy absorber, providing essential safety components in one package.
Excellent Customer Services: Safetyware takes pride in delivering exceptional services to clients both locally and internationally.
Adherence to Safety Standards: Safety is paramount, and Safetyware ensures its products meet strict safety standards. The fall protection equipment, including the FPH101YLYESET, holds DOSH-SIRIM approval in Malaysia and is CE-recognized. The body harness conforms to EN361:2002, while the lanyard adheres to EN355:2002, guaranteeing compliance with international safety regulations.
Competitive Pricing: Safetyware believes that safety should be accessible to all. Their competitive and reasonable pricing makes high-quality fall protection equipment available without compromising safety.
Expert Consultation: Choosing Safetyware grants you access to professional expertise. They offer free consultation, enabling you to make informed decisions based on your specific safety requirements.
By selecting Safetyware, you secure a comprehensive fall protection solution backed by exemplary services, adherence to safety standards, affordability, and access to expert advice. Your safety is our priority. We have also expanded our distribution network nationally and internationally by establishing sales offices and more distributors throughout Malaysia, Singapore and Australia.