Who would ever thought that 2020 would turned out to be BIZARRE?
I believe all of us have been struggling these few months throughout the Movement Control Order (MCO), especially merchants. It is quite difficult for most of the entrepreneurs to survive this critical time as some of them are just about to bloom their business.
As the saying by Damian Barr goes, we are not all in the same boat. We are all in the same storm. Some are on super-yachts. Some have just the one oar. Some entrepreneurs might already have plans when the unexpected happens. Some might only be an inch away from giving all up due to this pandemic.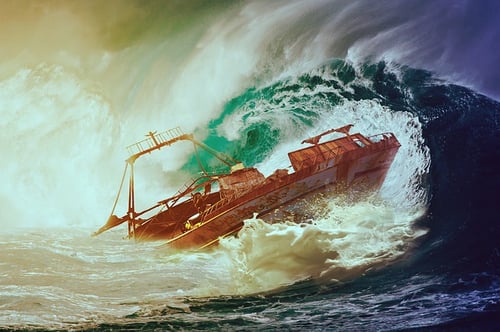 But, hang on there! Let me share with you some tips on how to adapt to this new norm, especially for manufacturers and business owners to survive.
As we all know, all businesses or merchants need manufacturers to supply goods in order to fulfill consumer request. This means that the most important things manufacturers have to do is to convince the entrepreneurs that it is safe to order or to deliver goods from factories to business owners' site.
In order to do so, first ask yourself - Did you adhere to the government implementation of the Standard Operating Procedure (SOPs)?
It is important to be sure that your factories hygiene is well-preserved to avoid the Covid-19 from spreading.
There are many aspects to be considered as we are now in the new norms.
Every single element needs to be precisely checked and make sure all services and goods are clean and safe to deliver to the consumers.
How can you make sure your factories are hygienic?
Practice Routine Cleaning
Cleaning is to remove dirt, marks or stains from surfaces. It can be done by using tap water or detergents such as AVEREX disinfectant cleaner.
Employers should encourage their staffs to practice routine sanitization using surface sanitizer (such as AVEREX multi surface sanitizer) on frequently touched surfaces to minimize the risks of Covid-19, such as:
Door knobs
Tables
Handles
Desks
Phones
Keyboard
Stationary
Thumb Print Machine
Factory or Premises Disinfection
Disinfection, on the other hand, is the act of removing bacteria and viruses which require the use of chemical and stronger disinfectants. However, some disinfectants might be corrosive to our sensitive skin, so it is best to choose disinfectants that are gentle to our skin such as OMBAC+ Ultron Medical Grade Hygiene Sanitizer.
Other than that, it is also a must to wear hand gloves and make sure to have good ventilation during disinfection.
Use Disposable Materials
Factories workers are potentially exposed to contaminations, which is why factories staffs are required to wear protection garments such as gloves, bouffant caps, aprons and coveralls. This is to preserve both the workers and the manufactured goods.
Some factories, due to low budget, prefer to use reusable materials which is strongly NOT recommended. It is advisable to start using disposable materials from now on in this new norm to minimize the spread of contamination. In order to keep your company reputation, you must first ensure that your goods are safe to be consumed. Disposable material might be costly but trust me, it is better to be safe than sorry.
Educate Staffs
One of the most important things employers should be aware of is to educate their staffs about the Standard Operating Procedure (SOPs) that should be practiced in the workplace. Employers also should advise their employee to practice personal hygiene and explain to them the Do's and Don'ts in the workplace. Encourage them to follow the 3Ws and to avoid the 3Cs.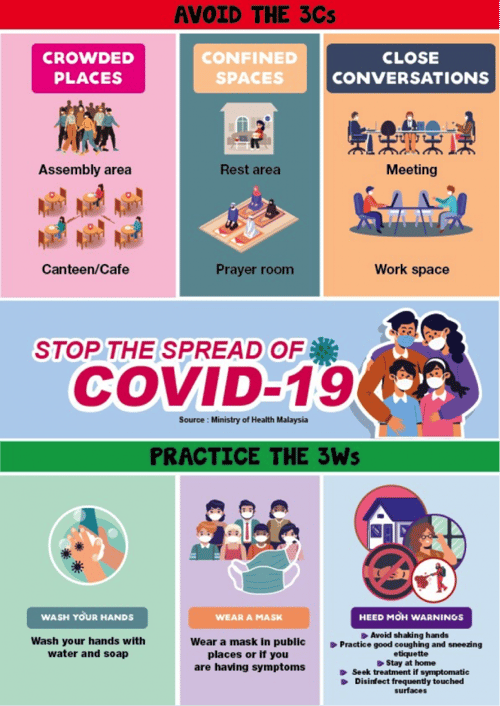 Credit: Malaysia Healthcare Travel Council
It is also advisable to implement a no hand shake policy in your workplace.
Handshake is a high risks gesture to catch Covid-19. Try to look for other greeting initiatives such as smile, direct gaze or hand gesture.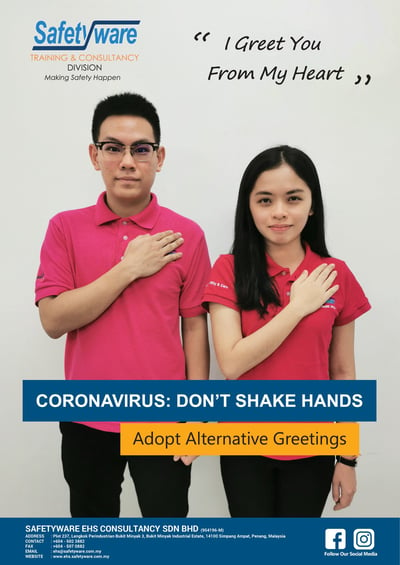 Health Education Materials
Health organization such as Ministry of Health and World Health Organization have posted many education materials to acknowledge the society about the prevention, symptoms and Covid-19 Hotline. Employers can also make their own materials as long as the information is precise and reliable.
It is important to have these materials around the workplace to ensure that everyone is always aware of the Covid-19 prevention and symptoms.
The followings are the examples of education materials that Safetyware is currently using.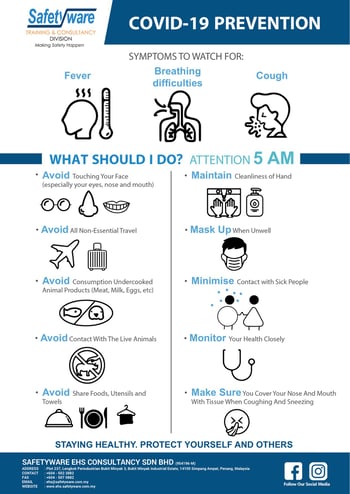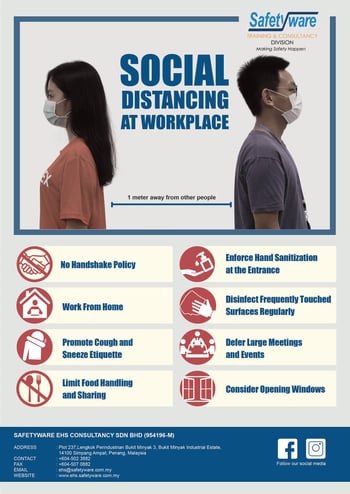 Psst! Just for your information, Safetyware Sdn. Bhd. is your ONE STEP SOLUTION in order to implement Standard Operating Procedure (SOPs).
You need Covid-19 Essential? Disinfectant? Contact us now!
You need Custom Made Signage & Posters? We have Quicksign!
You need more information about the Standard Operating Procedure (SOPs)? We have Safetyware EHS Consultancy!
Safetyware Online Store is now officially launched! Visit our store here to get all the essential tools mentioned above that can help you to sail through the new norm.